Looking for commercial cleaning in the Edmonton area?
Do you need a company that delivers reliable and affordable service? Call Diamond Shine Cleaning
Locally owned and operated, Diamond Shine Cleaning Ltd., has been providing cleaning services to businesses in Edmonton and area for over 10 years.
From carpet cleaning to day porter services to window washing, our cleaning professionals are always efficient, courteous and show up on time to get the job done right.



Why should Edmonton businesses choose Diamond Shine Cleaning for their commercial cleaning needs?
we use green seal products
No long-term contracts
no franchising
Budget-friendly rates
Dependable service by trained professionals
Customized cleaning to fit your needs
Our cleaning staff can be hired for 1 service or we can develop a service bundle to include all of your janitorial needs. We are so confident you'll be happy with our service that we work month to month and don't require businesses to sign long term contracts. This allows us to easily amend your services if changes are needed down the road.
Call to schedule your free estimate today!
Janitorial service for office buildings, retail stores, medical offices, restaurants, schools and warehouses
Our staff has 5 years of commercial cleaning experience and participates in extensive janitorial service training programs to ensure your property is thoroughly cleaned to industry standards. If your business or facility has strict regulations, such as a medical clinic, our staff will meet those requirements so you will always be up to code.
Professional office cleaning customized to your needs
When you hire Diamond Shine Cleaning, you are getting a personalized approach to office cleaning that starts with an assessment where we listen to your concerns and needs. We then work out a schedule and pricing that fits your budget. Once we have determined your precise needs, we train our staff with strict attention to detail.
Quality Control
Every month, a supervisor from Diamond Shine will inspect your building or office and a customer service rep will be in contact with you to make sure you're completely satisfied with our service. This is how we guarantee our staff will always exceed expectations so you'll be happy with us.
Why choose Diamond Shine Cleaning?
Full Janitorial Services
Building maintenance
Hard surface floor care
Tile and grout cleaning
Carpet and upholstery cleaning
Window washing
Cleaning services for all commercial needs
Our janitors are experienced in all aspects of commercial cleaning, including all types of hard surface floor care. Professionally maintained floors will improve your company's image while providing a safer environment for your workers. Our floor maintenance solutions include the following:
Floor seal
Spray buff
Strip and wax
Scrub and recoat services
Tile and grout cleaning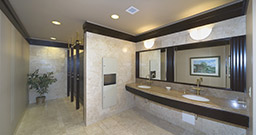 *Post Construction Cleaning
*New House Cleaning
*Show Homes Cleaning
*Renovation cleaning
*Factories, Medical Clinics
*Schools, Churches
*Offices, Condos, Apts.


Whether you need your home or office cleaned, Diamond Shine Cleaning is the one cleaning company that can handle it all!